We wrapped up
The Light in the Piazza
this weekend and that opened up for me a bit of time to check out some of the theatre going on in the city this summer. Many companies are quiet or busy getting ready for Fringe, but July is great for shows from Teatro la Qundicina and the Freewill Shakespeare Company (River city Shakespeare Festival).
I took in
The Bad Seed
at Teatro last Friday. Capturing the style and tone of 1950s movie thrillers, this was an excellent adventure in creepiness. There were many moments of shoulder shuddering resulting from a look or phrase from Rhoda, the child in question, played by Lila Solymos. The entire cast embraced the stylized tone of the piece and it was picture perfect. Nicole Elbro's journey as a mother learning more about her child than she can handle is excellent, as is Cathy Derkach as Monica, the neighbour who talks too much (it's a good thing). It's the whole nature vs. nurture question brought to life onstage, unwrapping clues and building to a satisfyingly terrifying ending, and it makes you wonder if some people are just born bad. We enjoyed it. There were plenty of laughs to accompany the shudders, and Solymos displays a terrific talent in the title role.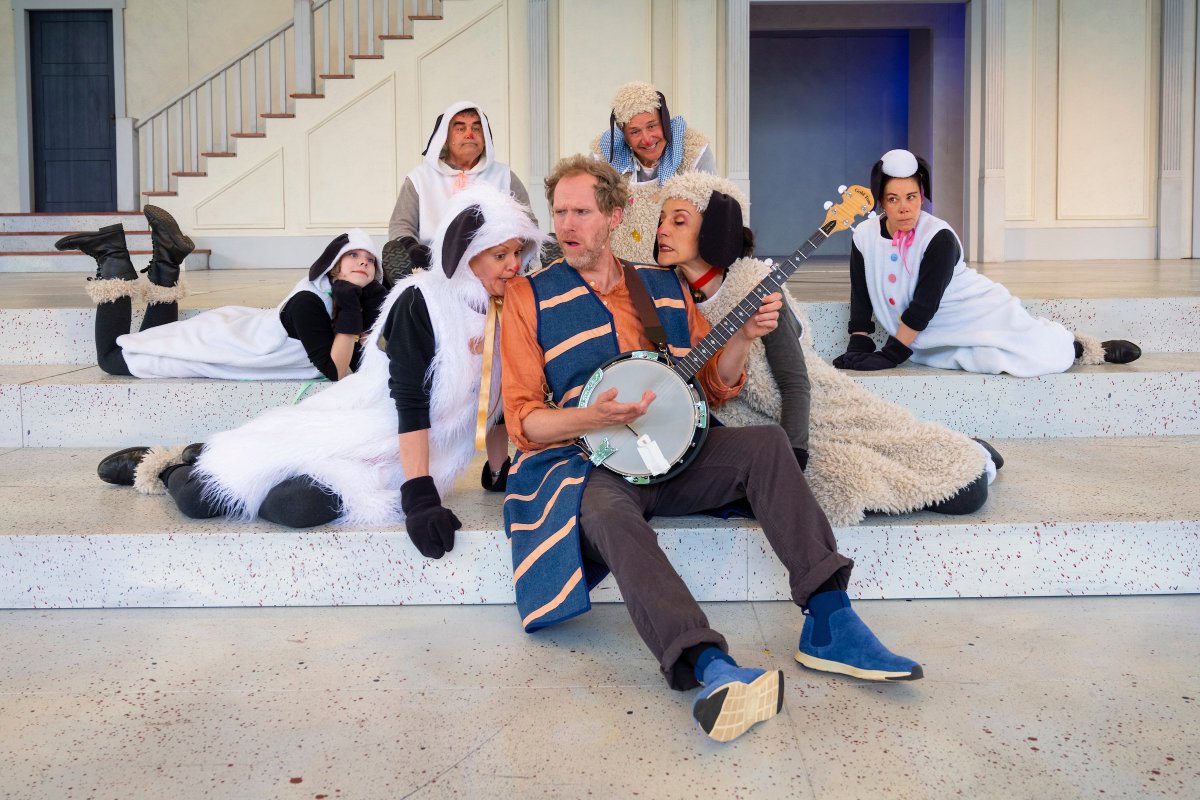 I'd been very curious about all those sheep that kept popping up in my feed in photos from
The
Winter's Tale
so I headed down to Hawreluk Park on Sunday afternoon to catch the last performance of it. I'm glad I did. It was the perfect day to catch the show and having never seen this particular Shakespeare play before, I was happy to catch it this year. Things turn dark very quickly in the play and the first act feels more like a tragedy, but the reversals and the frolicking in the second act shifts it all back to a comedy. The sheep were very entertaining, as was Chris Bullough as Autolycus, a crooked balladeer and peddler with sticky fingers. Christina Nguyen is quite lovely as Perdita, and the entire cast rises to the task of 'telling this tale' stepping forward and back as needed and it flowed quite well. I was happy to see it. I had often heard the play described as problematic, and there are potential pitfalls, but I think since they approached it as a 'story being told' it really worked for me.